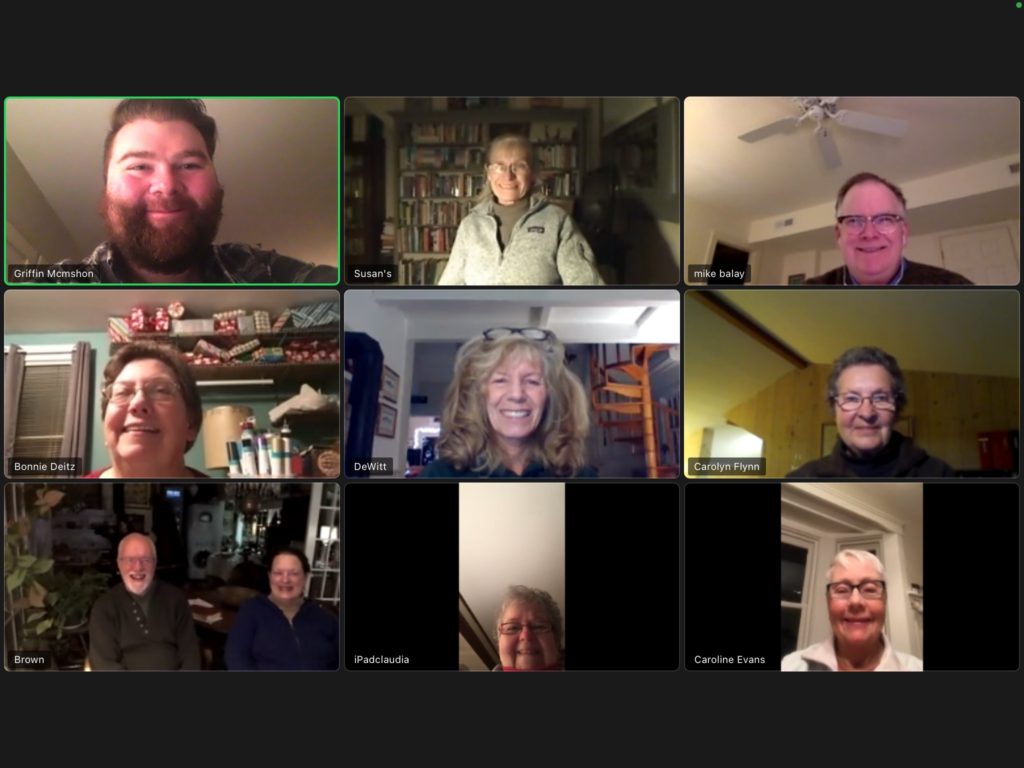 St Andrew's Episcopal Church
Edgartown, MA
Annual Music Report 2020
It is my pleasure to submit the 2020 MUSIC REPORT FOR ST. Andrew's Episcopal Church. It's hard to believe that one year ago, we were worshipping and singing together in person every Sunday in our beautiful parish on the corner of N Summer and Winter Streets. Things were shaping up to be a fairly normal Vineyard off-season ahead – the choir was working diligently on their weekly hymns and anthems, we were in the midst of reVision small group gatherings, and the stirrings of the annual summer onslaught of Island visitors was still off on the horizon.
I traveled back to the Island on the 3 AM Patriot paper boat on the early morning of Sunday, January 12, 2020. I did not want to miss church that day after my return flight back from New Orleans (via Cape Air Boston) failed to land safely on the Island and was redirected back to Logan Airport due to wind shear. I thought that it was an inconvenient and frustrating day of travel, but I was committed to make it to St. Andrew's somehow, someway, that frigid January SUNDAY MORNING.
Here we are, now a year from that day, January 2021. What I considered then to be a challenging and comically disastrous day of travel headache now seems like a walk in the park compared to what lay ahead. I joined you all for the First Sunday of Lent on March 1, 2020. Later that day, I got on the boat, took a bus to Logan Airport and flew back to New Orleans for a two week mid-winter break. At that time, the CDC was encouraging us to wash our hands, no need for panic or wearing masks. Social distancing was not a term in my lexicon that day. That day, MARCH 1, ended up being my last in-person service at St Andrew's. That was almost eleven months ago.
Lucy and I flew back to the Island on Saturday, March 14, 2020. I'll never forget that day for the rest of my life. That was the day our quarantine began. We made it back to the Island just as the COVID-19 pandemic was beginning to take off in the United States. We were told we had fifteen days to flatten the curve. Here we are, nearly 300 days later.
What to make of this strange whirlwind of a year? What began as a year of so much promise morphed into an Annus Horribilis full of plague, civil unrest, political discord, and widespread disillusionment. Yet there was also juxtaposed, at the height of the third wave of this terrible plague, a sense of hope. A highly effective vaccine had been developed in record breaking time. We now begin a new year with the finish line potentially in sight, with patience still very much the virtue in vogue.
Sacred music has taken on a particularly important role during these past ten months. While our choir may not be able to sing together in person, we banded together over Zoom and used modern recording technology to deliver inspiring "virtual choir" recordings for our online Christmas service. My brother Sean has contributed several beautiful renditions of hymns that uplifted us all as well the past several months. I have been proud to serve as your organist during this time of plague. I sincerely hope that my weekly musical offerings have added a level of peace to your life at a time when anxiety seems to grip us all to some varying degree. We must remember that these times are indeed not unprecedented. The two thousand year history of Christianity has been fraught with pandemic, war, and uncertainty. Yet whether in the Middle Ages, Enlightenment era, or during the Spanish Flu of 1918, the common thread was that humanity had Church to rely on in times of tribulation and deep spiritual need. We can turn to God when plague and war try to ravish us. There has never been a more essential time for the Church than there is now.
I have many people to thank for their rock solid foundation of support for this church and its music this past year. Our steadfast team – Father Chip, Heather Anne, Poli, Laura, and Mardi. Special thanks goes out to Wesley Brown and Cynthia Hubbard, who both stepped down earlier this year from their positions as Treasurer and Priest Associate, respectively. I have enjoyed Cynthia's thought provoking and inspiring sermons and am grateful for her tireless service to our parish life. Wesley has been a real mentor to me, as his years of experience as organist and choirmaster have been an invaluable resource and source of wisdom. I have nothing but gratitude to have such kind and thoughtful colleagues.
For our choir – of whom I am very proud for putting together such stellar virtual recordings, and for their constant good cheer. And last but not least, for our entire St. Andrew's family, for which I am eternally grateful. To have been employed as a sacred musician during this rocky time has been a true blessing. I am filled with gratitude beyond belief that I have a roof over my head and access to good food, health and cheer, despite widespread economic uncertainty, thanks to our wonderful staff and congregation.
Musical plans for 2021 include continuing to provide inspiring traditional and contemporary sacred music for our online virtual services, and working towards more virtual choir recordings for the seasons of Lent and Easter. I cannot wait until the first SUNDAY MORNING which we all can sing loudly together and rejoice in each other's company again. I hope this may happen sometime in the second half of 2021. I promise to continue to provide a wide breadth of great liturgical music for worship and to serve as your organist with humility and love, as always. Cheers to a brighter and better year ahead!
Griffin McMahon
Music Director & Organist