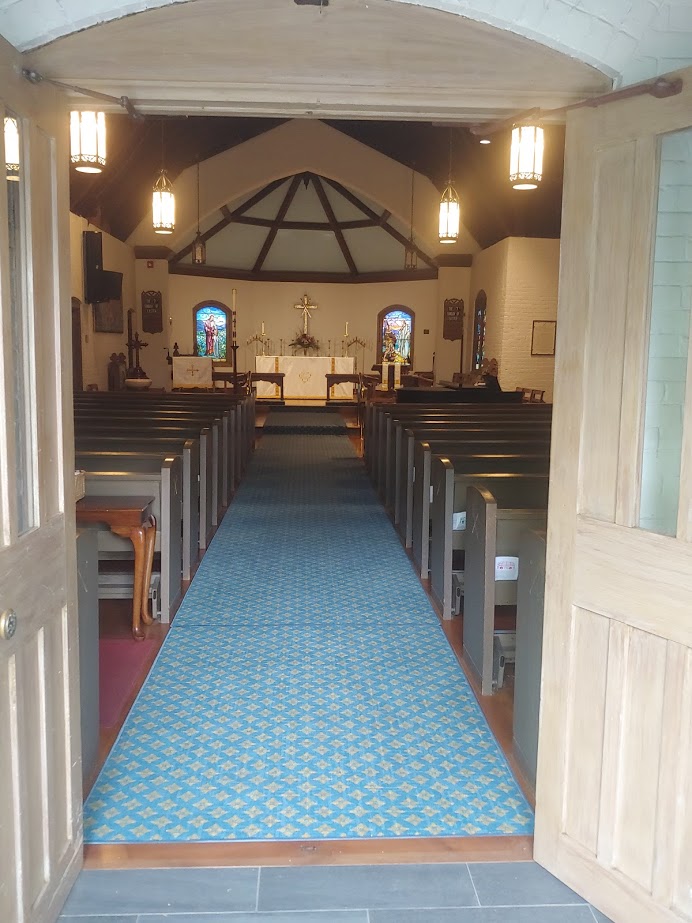 At St. Andrew's, we welcome everyone who seeks to experience God (in some way) – and we respect the dignity of every human being. Whether you are a year-round Islander, a summer resident or guest, or a first-time visitor, we very much hope you enjoy your time with us. Come as you are, come be who you are, and see!
SAVE THE DATE!
Saturday, December 12
---
SAVE THE DATE!
DECEMBER HAPPENINGS AT ST ANDREW'S!
Saturday, December 12, Christmas in Edgartown
10:00am – 1:00 pm
St Andrew's Outdoor Cookies, Hot Chocolate and Carols! Corner of Winter and Summer Streets, Edgartown. Make out a holiday postcard for our country's service folks, and eat, drink and sing merrily!
Friday, December 24, Christmas Eve
4:00 pm A beautiful, traditional and family friendly service. All are welcome!
9:45 pm A beautiful service filled with music and candlelight. All are welcome!
Saturday, December 25, Christmas Day
One Service at 9:00 am
Traditional and quiet Christmas Eucharist. All are welcome!
Sunday, December 26, The First Sunday after Christmas Day
One Service at 9:00 am
Rite II with Organ. Join us!
Stay Connected!
Check out our Facebook and Instagram pages and stay connected with our community.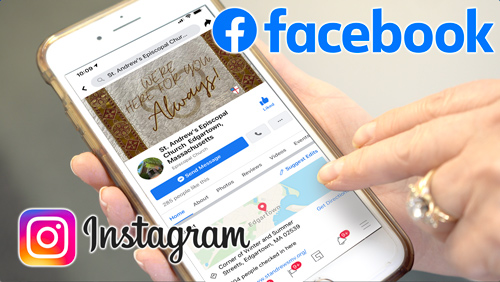 Facebook: https://www.facebook.com/standrewsmv
Instagram: @standrewsmv
YouTube: https://www.youtube.com/channel/UCEEnNeKE53AFwvCYkVHLIrg
---
---
.
Advent Quiet Day Dec 4
Advent Love – Calendar Edited Again PW Final 2021
https://www.diomass.org/event/advent-quiet-day-make-your-home-me
Lots and Lots going on here!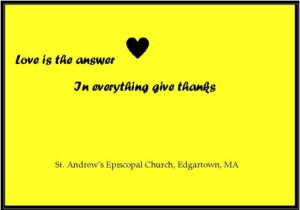 Laboratory of Love:
What is our identity as a church in the island community? If you stopped someone on the street and asked them what comes to mind when they think of St. Andrew's Church, what would their answer be? In this time of transition, we are forming a small group to open this conversation. Who are we? Who do we want to be? Let's experiment with new and creative ideas. Please contact Cynthia Hubbard at cynthiaphubbard@comcast.net if you are interested.
And following in this same vein…
Ourselves: Our Community
Once the brainstorming brings us to some clear ideas of what St. Andrews feels passionate about in our island community – what comes next? We turn our ideas into action! If you are a "doer" and are interested in a small group that will design and implement ideas for reaching out to the community, join our new small group team, Ourselves: Our Community. Please contact Christine White at edgartown7@aol.com
Book Club:
St. Andrew's Book Club has been up and running for approximately 9 months, and it keeps getting better and better. If you want a low key, no pressure, once-a month friendly group to meet with via Zoom, this is the club for you! Join at any time. This is fun! Email Mathew Tombers at mjt@intermat.tv or Palmer Marrin at pdmarrin@gmail.com
---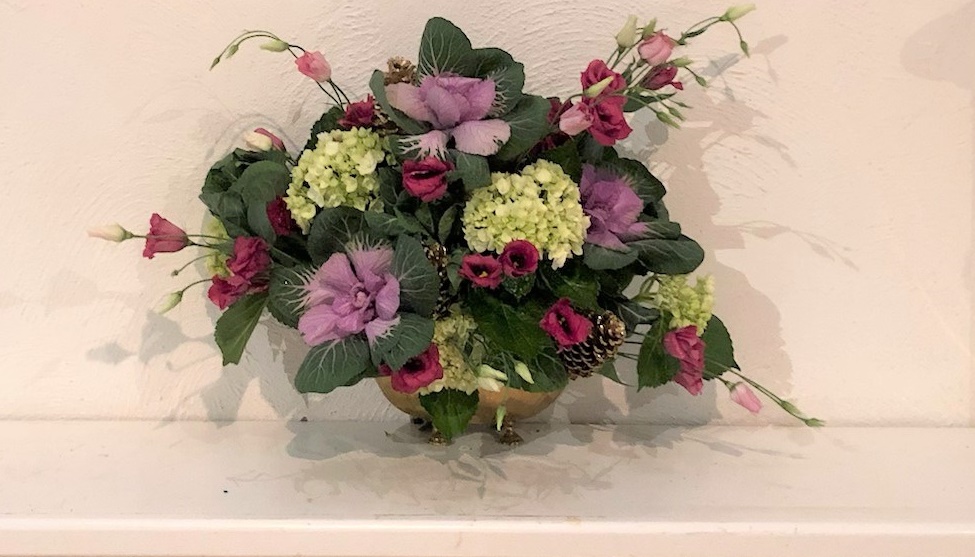 Patricia Ruppert Flanders
The Rev. David Marston Flanders
Richard Bulow Kent
Nathaniel T. Guernsey, Sr., Otis L. Guernsey, Sr.
Martha L. Guernsey, Nathaniel T. Guernsey Jr.
Otis L. Guernsey, Jr.
Peter E. Guernsey, David T. Guernsey
John Jay Angevin, Jr., Margaret and Robert Price
Louisa and Roger Robinson, Henry H. Robinson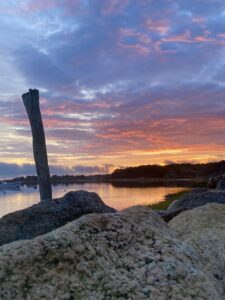 STEWARDSHIP 2022
To our beloved friends and family of St Andrew's Church:
I don't know about you, but I feel like we've all come through a lot over the last number of years. We've had to navigate The Pandemic, political and social upheaval and uncertainty, and concerns for the wellbeing of our very world. And whether we care to think about it or not, there's a sense many of us share that we simply won't be able to return to the 'old world' and lifestyles we used to enjoy, certainly not in the same way.
Yet at the same time, over these last few years, something incredible, in my view, has been happening at St Andrew's Church here in Edgartown. We've been building new things, and restoring old things, so that our church, and parish hall, our parish house, and even the rectory, are in good working order, and are neat, and clean, attractive—ready to keep us together, and to move forward into an uncertain future in the sure and certain hope of new lives in resurrection. God is just so good. Especially here in this glimmering jewel of a church on this shining island.
Indeed, I have the profound sense that God continues to build and renew our faith community over and over, time after time, not with buildings alone, but with US. With many, like you, who choose to engage, learn, pray, work, and lead others in ministry and faith. Considering all we've been through, it is just SUCH A BLESSING to have this faith community always here to fall back on, be with, and to discover nourishment and courage within. As new creations, indeed, we are Christ's body in this world. Together.
As we now move into the last quarter of 2021, i ask you now to reflect on where you are now, where God has been leading you, and to consider what it means for you to experience God, among others, as part of our little church with such a big heart and faithful, vibrant spirit.
And to make a sacrificial gift to keep this heart thrumming, joyful, renewed, and life-giving, to us and so many others, whether year-rounders, seasonal residents, or frequent, or occasional, guests.
What a deep and meaningful blessing in life it is to have each other, in our new life together, in Christ.
Please take this moment to complete the enclosed pledge card and return it to us.
I always thank God for you.
Faithfully yours,
Father Chip+